The summer has been blazing this time and what better place to be in with family than Coorg. My folks came down here to beat the summers at Hyderabad. Initially we were planning to spend at a village supported by an NGO but because of logistics we decided to make it a much more pleasured trip and it turned out to be a great one.
Bylakuppe
This is a Tibbetian resettlement place and houses the Golden Temple (a Buddhist Monastery). A must see place for the first timers and I suggest you must reach here just before 1PM. Exactly at 1PM the monks start their daily prayers here.
It is really soothing to hear their prayers and hymns. Take an empty Tea cup and they will serve you Tea for free during this time.
Destination Coorg:
Coorg (Madekeri) is around 260KM from Bangalore. Three main stations form the critical sections of Coorg. Somwarpet, Virajpet and Madekeri. Generally Coorg refers to Madekeri colloquially. Coorg or Kodagu is a south-eastern district of Karnataka which borders with Wayand district of Kerala towards south.
How to reach:
Bangalore - Maddur - Mandya - Srirangapatana - (take the bypass, don't go to Mysore) - (get onto Mysore - Mangalore road) Hunsur - Bylakuppe - Khushal Nagar - Madkeri

If you are planning to reach towards Virajpet, then you need to take a deviation at Hunsur. this is also the route to reach Nagarahole National Park (aka Rajiv Gandhi National Park) and Irupu falls.
Where to stay:
Coorg has this wonderful concept of "home stays". Generally a bungalow is rented out to you with all the facilities including breakfast, lunch and dinner (and of course unlimited Coffee and Tea). There these home stays located right in the middle of Coffee estates and one such home stay I'll recommend here is the "Estate Stay" run by Indu and Mary Pooviah.
Estate Stay:
This is located at a distance of 8KM from Madekeri.
How to reach
: Just take the Madekri-Mangalore road and try to reach this place called "Madenad". You'll find this on your left.
Tariff:
The idea is rent out the entire place for 5000 rupees for 10 people (500 per head) and additionally 250 per person extra thereafter per day (24 hours). I guess the all three meals of a day are included.
They charge Rs 1250 for a double-bed room. Call them up for the latest charges.
Contact
: Indu Pooivah: 08272 236545
Website
:
http://www.coorgestatestay.com/
My Indu Pooviah is an amazing charming person who is fighting fit at his age. The hospitality which they show is truly overwhelming and humbling. Both Mr Indu and his wife Mary aunti are amazing people. They will take care of you very well.
At the
Estate Stay
you can go on trekking to never visited places (Trekking charges may be extra) and also cycling locally. There are enough tents also available just in case you want to campfire outside in between the coffee plantations. This home stay is spread across a very wide area and its a must see and live place, at least for city dwellers like us.
No mobile signal at all, so no annoying calls. Luckily they have a BSNL landline which you use in case of emergency. Some of the areas in Coorg only have BSNL movile signals.
Food: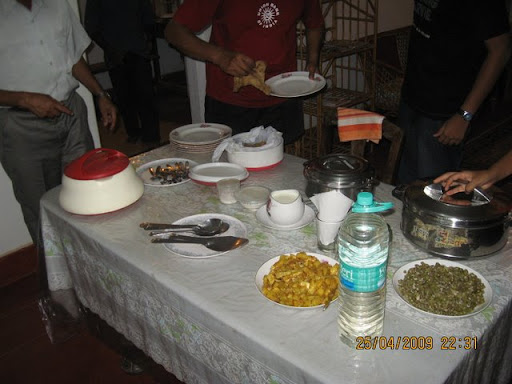 Coorg is known for non-vegetarian food. Pork is the most popular of all. But though do have a quite a lot varieties of vegetarian as well mostly rice balls, puttu and others.
They arranged a camp fire for all of us and we had a great Antyakshari competition between the sobers and not-so-sobers. There are lots of fire-flies (
jugno
) which you'll love to watch. Mr Indu Pooviah will also take you to a small trek up and down hill to show his estate and fields. You name a fruit he has a tree for it and he is very knowledgeable and can give you amazing minute details about Coorg and its people. He is a big encyclopedia and you can learn a lot from him.
There are four very well trained dogs that you'll find here and you can play with them as well. And for all those not-so-sober people do take in a wine bottle with you to have it over camp fire and you'll enjoy the setting. There is plenty of coffee for the sobers !
Surprisingly they offered a place for our driver to sleep and gave me food for free. It seems they don't charge for the drivers which was very accommodating of them.
Tala Cauvery
This is the place from where river Cauvery originates and as the rain waters fill in it reaches all the way to Tamil Nadu until it meets in Bay of Bengal.
This one is just 35KM from Madekeri.
Kukke Subramanya:
This was one temple we missed last time. At the backdrop is the famous KP - Kumara Paravatha, a favourite among trekkers. Kukke Subramanya is at a distance of 80KM from Madekeri. We did not know that it was so near and our friendly neighbours at the Estate Stay told us about this.
How To reach:
From Madekeri take the Mangalore route and go towards Sulia. From Sulia you can reach Kukke.
The temple is closed from 1.30-3.30PM. You can have the temple free food there during this time as well. Most of these temples have free food and really very tasty.
This temple is famous for the "Sarpa Dosha" or the "Manglik" related stuff.
Horanadu
This is my family's most favourite place and we wanted to be here next time for sure when we visited it first two years ago.
Horanadu houses goddess Annapoorneshwari. This is a unique temple where one gets to see the goddess after having a free temple meal. Everyone gets to eat here and nothing more gratifying than this temple. The 9.30PM
aarthi
is the most awaited.
This place is also known as "Male Nadu", meaning that this place is always raining.
Aval Akki (Rice flakes)
is the most popular breakfast in the temple and is my favourite these days. The day we were there it was "Akshaya Trithiya" and considerable crowd presence.
To reach here from Kukke, you'll have to reach Dharmasthala (62KM from Kukke Subramanya) and pass through KudreMukh and then reach Horanadu. The temple accommodation costs just Rs80 for a double bed room.
Sringeri is very close by from Dharmasthala and Horanadu as well (guess close to 40KM).
You can catch up with some Neeru Dosa and udupi Bunse in and around here.
Take a photo tour here:
http://picasaweb.google.com/balsubu/CoorgKukkeHoranadu#
Feel free to drop in a line or two if you need help in route or places.